OCU expands MBA offerings and deflates the cost
Posted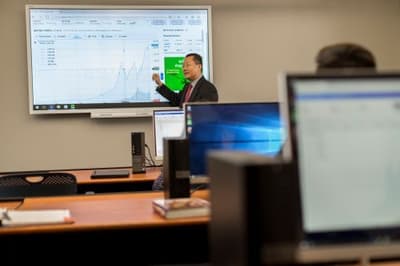 Oklahoma City University is making a move to help prepare a more-qualified and specialized labor pool in the region by launching a series of new online MBA concentrations and reducing the price of the degree program, university officials announced today.
Oklahoma City University (OCU) will launch four new online MBA concentrations in time for the summer 2023 semester. Joining the school's existing MBA tracks in leadership and health care administration are MBA concentrations in corporate accounting, data analytics, financial analytics and energy. All six tracks include an emphasis on understanding and development of leadership skills.
The university also will reduce the price of its online MBA programs nearly in half to a total cost of $15,000, which works out to $417 per credit hour.
"As our state and national economies continue to grow and diversify, employers report the need for a workforce equipped with an expanding skill set," said Sri Beldona, dean of OCU's Meinders School of Business. "We believe that through these more flexible, diverse and accessible MBA concentrations, we can help businesses address their growing workforce needs."
Beldona noted the concentrations in data analytics and financial analytics are especially relevant in today's business landscape, as the needs for data collection, analysis and interpretation proliferate in a growing number of companies and organizations.
The dean said the price reduction is a way for the university to serve the community – both its residents and business partners – by providing a more affordable graduate degree option to prospective students.
The Meinders School of Business is AACSB International accredited, placing it within the top 4.5% of business schools in the world. In addition to the online MBA concentrations, the school also offers a pair of in-person graduate business degrees: The Thunder Leadership MBA and the Master of Science in Accounting degree.
More information about OCU's new online MBA concentrations can be found at