OCU hosts art professor's retrospective exhibit
Posted
Oklahoma City University's campus art gallery will feature a retrospective of work by legendary art professor Jack Titus, opening Sept. 11 with a reception event from 5 to 7 p.m. Sept. 14.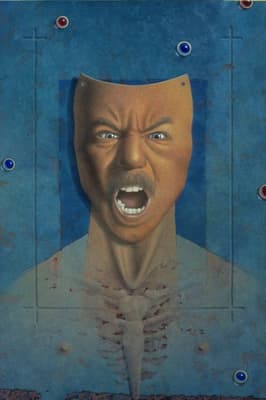 Titus exhibited his work extensively for more than 40 years in national and international competitive exhibitions, as well as group and one-person shows, and was the recipient of numerous honors for his mixed-media watercolor paintings. He only rarely exhibited his work in Oklahoma outside of Oklahoma State University's annual faculty exhibitions. In 2017 the artist stopped exhibiting his work entirely outside of the OSU campus.
Heather Lunsford, gallery director and curator of the exhibit in OCU's Norick Art Center, said the exhibit is an opportune chance to see Titus' brilliant art.
"Titus has earned many awards over his 40-year career, but opportunities to see his work up-close and in-person have been rare," Lunsford said.
Titus was born in 1951 and grew up on a small ranch in Red River County, Texas, a land-grant property settled by his great-great-great-grandfather in the 1830s. He received an art degree in painting and printmaking from East Texas State University in 1975.
During his undergraduate studies Titus worked for three years as a research assistant to widely acclaimed Texas artist Karl Umlauf, an experience he described as formative and "essentially an old-school apprenticeship to a true master."
Drawn to the raw energy of the "neo-surrealist" movement that had emerged from the Chicago art scene in the early '70s, Titus moved to Illinois in 1975 where he eventually enrolled in the MFA program at the University of Illinois. He later spent four months traveling in Europe, much of this time in Italy. He says it was this experience that cemented his interest in both portraiture and the nude.
Titus joined the faculty of Oklahoma State University in 1988 where he was charged with expanding the Watercolor program and creating a Life Drawing program. He also developed a travel program for his students and for 18 years conducted tours of museums, cathedrals and archaeological sites of major European cities. While on sabbatical leave in Barcelona in 2016 he began work on a body of paintings that would become his primary focus until his retirement from OSU in June 2020.
OCU gallery hours are 8 a.m. to 10 p.m. Monday through Friday. Admission is free. For more information go to okcu.edu/art.