OCU makes enrollment gains
Posted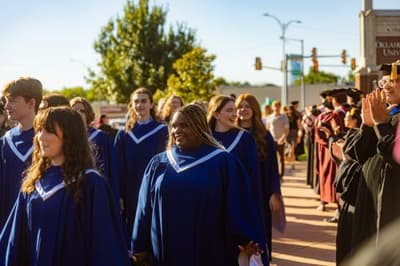 Oklahoma City University is reporting a significant up-tick in student enrollment this fall, including its largest class of first-year students in more than a decade.
University officials report a total enrollment of 2,756 students this semester. This is a nearly 8% increase – representing about 200 new students – over the previous year. It's the largest total enrollment at OCU in the past five years.
Additionally, the school's 376 first-year students mark the largest incoming class at OCU since 2010.
"We're pleased to welcome this class of students to campus," OCU President Kenneth Evans said. "We work hard every day to provide a fulfilling and enriching educational experience, and we're gratified that students are recognizing this value."
While the number of first-year students is up, the university is experiencing success at the graduate level as well.
Enrollment is up in both the Petree College of Arts & Sciences and the Meinders School of Business. These increases are due to jumps in attendance in the Master of Science in Computer Science program and the Master of Business in Administration program.
The latter program grew by nearly 100 students after the university unveiled a series of new online concentrations and a reduced total program price.
In addition to arts and science and business, enrollment was up in the university's dance, music and theatre schools, as well.
The university also experienced a significant gain in international enrollment. OCU enrolled 173 new international students this fall, compared to 92 new students the previous year. Overall, there are 257 international students enrolled in classes this semester, compared to 169 at the same time last year.
Another area of growth was in online programming. OCU introduced new online RN-to-BSN and Master of Science in Nursing degree tracks in the previous year. Those programs currently are home to nearly 100 students.
Kevin Windholz, vice president of Enrollment Management for OCU, said the school's emphasis on new programming has paid dividends.
"It's necessary that universities be responsive to the needs of the market and the workforce," Windholz said. "We feel we're delivering options where students can see clear benefits and outcomes."
University officials said they will continue to identify and deliver new programs and modalities. A good example is the recent announcement of the state's first and only 12-month accelerated in-person Bachelor of Science in Nursing degree. The first cohort in that program is set to begin in January.