OCU opens season with musical 'Bright Star'
Posted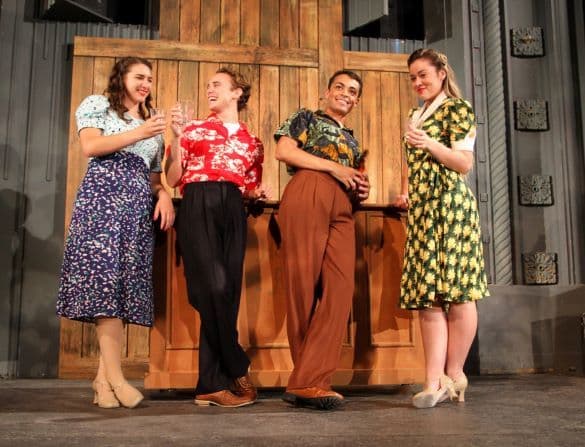 Oklahoma City University's Opera and Music Theater Company opens its 71st season Sept. 30-Oct. 2 with "Bright Star," the Tony-nominated Americana bluegrass musical by Steve Martin and Edie Brickell.
Inspired by a true story, "Bright Star" explores a dark secret, family ties, love, forgiveness and redemption in North Carolina's Blue Ridge Mountains. The show garnered five Tony Award nominations, including Best Musical and Best Score.
"The tale behind 'Bright Star' is dusted with gentle lies and harsh truths," director David Herendeen said. "It asks: 'Is it better to hope, or to know?'"
OCU's production will feature a cast of 32 under Herendeen's direction and a 10-piece bluegrass band, led by Matthew Mailman, in three performances: 8 p.m. Sept. 30 and Oct. 1, and 3 p.m. Oct. 2 in Kirkpatrick Auditorium, 2501 N Blackwelder Ave.
Tickets ($15-$30) are available by calling 405-208-5227 or online at okcu.edu/tickets. A "Bright Star" themed pre-show opening night dinner ($25) featuring entertainment by OCU students will begin at 6:15 p.m. Sept. 30 in the Bass Music Center atrium on the OCU campus. A free director's talk will be held 45 minutes before curtain.
"The shining achievement of the musical is its winsome country and bluegrass score," The New York Times noted after the show's 2016 Broadway debut, praising songs that "boast simple but seductive melodies, and lyrics that have a sweet, homespun quality."
The show features choreography by Sheri Hayden, costume design by Rachel Barnett, lighting design by Graham Darnell, and scenic design by Jason Foreman.
The Oklahoma International Bluegrass Festival is partnering with the production.
OCU's season continues with Jerry Bock and Sheldon Harnick's "She Loves Me" (Nov. 4-6); Engelbert Humperdinck's "Hansel and Gretel" (Nov. 18-20); W.A. Mozart's "The Magic Flute" (Feb. 17-19); Jacques Offenbach's "Orpheus in the Underworld" (Feb. 24-26); and Stephen Sondheim's "Sunday in the Park with George" (April 21-23).
The Bass School of Music is home to the OCU Opera & Music Theater Company, the nation's oldest campus-based troupe now celebrating its 71st consecutive season. OCU has been honored with 11 National Opera Association production awards, and selected multiple times by Playbill for its "Big Ten" honor roll of top schools educating Broadway performers. For more details about the OCU School of Music, visit www.okcu.edu/music.
"Bright Star" cast: Featuring Abigail Brock and Landry Champlin as Alice Murphy; Collin Ellsbury and Evan Moore (Lucas Semrau, swing) as Jimmy Ray Dobbs; Brandon Barksdale and Landon Preiss (Karol Cooley, swing) as Billy Cane; Grant Huneycutt as Mayor Josiah Dobbs; Arissa Brown and Katie Garthe as Lucy Grant; Arianna Ferch and Emma Petherick as Margo Crawford/Off-Night Edna; Joshua Cominsky as Daddy Cane; Jackson Barnes as Daddy Murphy; Peter Quinn as Daryl Ames; Mae Rodgers as Mama Murphy; Karol Cooley as Stanford; Lucas Semrau as Dr. Norquest; and Adam Morrison as Max. The Ensemble: Lucy Abramowitz, Alyssa Crowley, Ella Benward, Catherine Garcia, Grace McLean, Addison Schuh, Fiona Scott, Riordan Banks, Owen Kelly, David Eldridge, Noah Morgan, Adam Morrison and Michael Rick.