OCU receives gifts for endowed faculty positions
Posted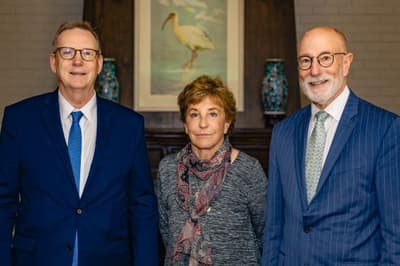 A family of philanthropists has established endowed professorships at Oklahoma City University in the Bass School of Music and the Kramer School of Nursing to advance educational efforts in two of their primary passions.
The Josephine Freede Endowed Professorship in Instrumental Music and the Josephine Wyndham, Margaret Wyndham and Catherine Annette Freede Professorship in Gerontology will both impact critical areas of study at OCU.
The Freede family created the instrumental music professorship to support the training and education of future music educators. Margaret Freede, daughter of Josephine, started the endowment in honor of her late mother, who passed away in 2020 at the age of 93.
"Josie was born and raised in England, where classical music was an important element of her culture," Margaret Freede said. "She was a classically trained pianist. She understood the inspirational and artistic value of classical music as well as its ability to enrich the lives of everyone who heard it. Her philanthropy and fundraising in Oklahoma City for almost 70 years were focused on the arts and music. This gift is made to continue the work she devoted her efforts to perpetuating over the course of her life."
The recipient of the endowment, which will be selected by the dean of the Bass School of Music, must have a track record of excellence in performance and teaching.
The gerontology professorship celebrates the legacy of the Freede family's work to advance health care. All three of the individuals it's named for worked in health care-related professions — Josephine received her charter society in physiotherapy degree before training at an orthopedic hospital in England; Margaret managed several clinical trial sites and helped gastroenterology patients get access to medications; and Catherine worked as an orthopedic surgical nurse alongside her father, Henry, for nearly 50 years.
The gerontology professorship recipient, who demonstrates nursing and teaching excellence, will be selected by the Kramer School of Nursing dean, with preference toward a faculty member who specializes in gerontology and additional preferred consideration for candidates who have experience in rheumatology.
"We are grateful for the generosity of Dr. Freede," OCU nursing Dean Gina Crawford said. "With the increasing numbers of older adults, it is critical to educate nursing students about the unique health and wellness needs of this population. This endowed professorship will provide opportunities for curricular support and faculty-led research in the field of gerontology."
The Freede family has contributed to several causes in Oklahoma City that have helped improve the health, wellness and cultural offerings for its residents, including the Henry J. Freede Wellness and Activity Center at OCU and the Freede Theatre at the Civic Center Music Hall in downtown Oklahoma City. OCU President Kenneth Evans noted the Freede's commitment to philanthropy has helped shape the culture at OCU.
"Dr. Margaret Freede's unwavering support will play a crucial role in attracting and retaining the best faculty from around the country," Evans said. "This will ultimately have a tremendous impact on generations of music and health care students at OCU."