OCU School of Law Earns Historic Preservation Recognition
Posted
by Rod Jones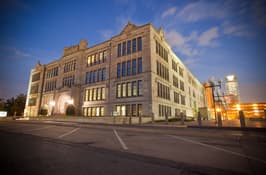 Oklahoma City University School of Law was selected to receive the 2016 State Historic Preservation Officer's Citation of Merit. The award will be presented to the law school and its contractor, the Frankfurt Short Bruza architecture and engineering firm, during the annual Statewide Preservation Conference June 2 in Enid.
OCU purchased the former Central High School building at 800 N. Harvey in 2012 and renovated it in time for classes to begin in fall 2014. The building was designed by architect Solomon Andrew Layton, who also designed the Oklahoma State Capitol and the Skirvin Hilton Hotel. The historic Gothic-style building was constructed in 1910 and is on the National Register of Historic Buildings. It has approximately 177,000 square feet.
"This magnificent building came to our attention and it ignited our imagination," said law school Dean Valerie K. Couch. "Here we are able to build new and dynamic connections with the legal and business community and contribute to the growth and progress of this great city of ours."
The Citation of Merit is awarded annually to individuals, organizations, agencies and firms that have made important contributions in the preservation of Oklahoma's heritage. OCU selected Anderson & House Inc. as the commercial contractor for the renovation project. The project preserved a small museum in the building's original lobby that includes photographs and artifacts from its time as the city's first high school. The museum also features two large murals by Oklahoma artist Olinka Hrdy, which were restored and returned to their original location.