OCU School of Law, UCO Graduate College Explore Partnership
Posted
by Rod Jones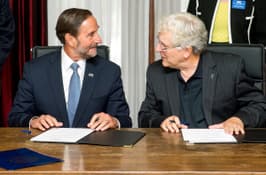 Officials from the University of Central Oklahoma and Oklahoma City University signed an agreement yesterday to explore a partnership between UCO's Master of Public Administration (MPA) program and the OCU School of Law juris doctor (J.D.) program.
The signing made official the institutions' desire to study the possibility of educational cooperation, credit transfers and dual degree offerings between the universities' programs, as well as faculty exchanges and other collaborative efforts.
UCO President Don Betz and OCU President Robert Henry together called the signing a launching pad to partnership, with both institutions looking forward to years of collaboration and mutually beneficial student exchanges.
"I couldn't think of a more appropriate and seasoned and respected partner for the University of Central Oklahoma to find common ground with than OCU," said Betz.
"We know why we're here — because the future of this region is important and it revolves around the quality of the people who call this home, and we will help, hopefully each in our own way, make that possible. But together the power of collaboration I think is going to demonstrate itself in a way that Oklahoma City and the Oklahoma City metro will be truly proud."
OCU School of Law Dean Valerie Couch called the collaboration between the universities an amazing one that has "taken on an energy and life of its own."
"We're already talking about joint efforts in cyber security and homeland security. In forensic science and forensic evidence, we're already very much partners in providing a high level of interdisciplinary education for our students, so there's more to come," Couch said.
The UCO MPA launched in 2012 and has rapidly become one of Central's most popular graduate degrees. The applied management and policy program prepares graduates for careers and positions of leadership in local, state, tribal and federal governments, nonprofit organizations, and the for-profit sector, and like OCU Law, is built on a flexible schedule that makes it ideal for working adults.
OCU Law offers several on-campus options to law students who want to pursue joint degree programs, including a joint J.D./MBA degree with Oklahoma City University's Meinders School of Business and a joint J.D./Master of Arts in Nonprofit Organizations and Leadership with OCU's Petree College of Arts and Sciences. Law students can also take Forensic Science in the Courtroom, a joint class with UCO forensic science students. The course gives law and forensic science students working knowledge of what is expected in the courtroom.
With the recent opening of UCO Downtown at 131 Dean A. McGee Ave., more than half of Central's MPA courses are available in close proximity to the OCU School of Law, which recently relocated to 800 N. Harvey Ave. in downtown Oklahoma City.
Both UCO and the OCU share goals of impacting the Oklahoma City metropolitan area through the support of economic development of future leaders, preparing students for leadership in business and government, and developing innovative educational partnerships.
For more information about Central's Master of Public Administration program, visit www.uco.edu/mpa.
For more information about Oklahoma City University School of Law, visit law.okcu.edu.