OCU to Host Homeland Security Law Summit
Posted
by Rod Jones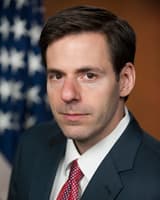 The Oklahoma City University School of Law will host the Second Annual National Summit on Homeland Security Law on April 19.
The summit will feature legal experts discussing cybersecurity and the balance between security and liberty. The theme is titled "The State of Cyber." It will coincide with the 21st anniversary of the Oklahoma City bombing. The school is at N.W. 7th Street and Harvey Avenue, two blocks north of the Oklahoma City National Memorial.
Registration is $75 and can be made online at oculawsummit2.eventbrite.com.
"In light of the recent terrorist attacks both here and abroad, this is an important time to have meaningful discussions about the protection of our nation," said Valerie Couch, dean of OCU Law. "Cybersecurity is on the forefront of national debate right now, especially with the FBI's feud with Apple and the tech industry for easier access to information. We hope we can share ideas and hear what some of the most prominent experts in the field have to say."
The summit will bring together the most important names in cybersecurity law from across the country.
Confirmed speakers include John P. Carlin, assistant attorney general for national security in the U.S. Department of Justice; Suzanne E. Spaulding, undersecretary for the U.S. Department of Homeland Security; Joe D. Whitley, former Department of Homeland Security general counsel; Sanford C. Coats, a former U.S. attorney and director at Crowe & Dunlevy; and Amy Northcutt, National Science Foundation general counsel.
Panel discussions will include "Cybersecurity Basics: What every corporation, law firm and organization needs to know" and "A Deep Dive on Cyber & Incident Response Plans." There will also be a conversation about the FBI versus Apple case.
The summit is open to the general public. Registration is required. Crowe & Dunlevy law firm is the presenting sponsor of the event.
OCU Law's Judge Alfred P. Murrah Center for Homeland Security Law and Policy opened last year. The Murrah Center offers analysis of the legal issues the Department of Homeland Security faces, serves as a voice on domestic security matters for states, towns and municipalities, and provides insight and support to public and private sectors on matters of homeland security.