Physical therapy program hosts open house
Posted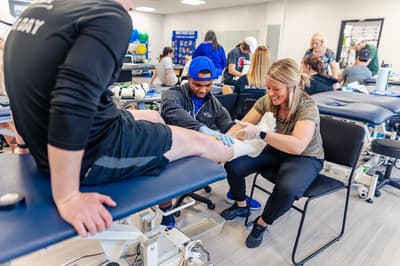 Officials with the Oklahoma City University Doctor of Physical Therapy program have scheduled an open house to give prospective students an opportunity to learn more about the program.
The open house is set for 5:30 to 7:30 p.m. Nov. 11 on the Oklahoma City University campus, in the Dawson-Loeffler Center, Room 122. Dawson-Loeffler is located just to the southwest of the Freede Wellness and Activity Center. Pre-registration is required.
The open house will provide an opportunity to meet with current Doctor of Physical Therapy students, the program director, faculty and staff who can answer questions about the program. The open house will also include a tour of the facilities. Light refreshments will be provided.
OCU welcomed its first cohort in its Doctor of Physical Therapy program to campus in July 2020. The eight-semester professional curriculum combines full-time didactic and clinical education coursework. The clinical portion of the curriculum includes service learning, integrated clinical experiences and full-time clinical experiences.
Program officials say they aim to prepare students not only for the clinical aspects of patient care, but also for the components of running a successful physical therapy practice.
"Thanks to our low student-to-faculty ratio, our students and professors get to know each other on a personal basis, fostering an atmosphere of shared success in the classroom and beyond," said Maria Jones, Doctor of Physical Therapy program director.
Additionally, program officials announced they have extended the deadline for applications for the summer 2022 cohort. The initial deadline was Nov. 1, but it has now been extended to Dec. 1.
For more information about OCU's Doctor of Physical Therapy program, or for information on how to submit an application, go to okcu.edu/doctor-physical-therapy/home.