SSM Health St. Anthony Hospital, OCU sign nursing partnership
Posted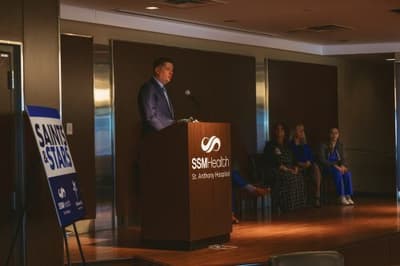 Leaders from SSM Health St. Anthony Hospital and Oklahoma City University today announced a nursing partnership aimed at helping stem the critical shortage of nursing professionals in the state.
The Saints & Stars Program is a five-year agreement between SSM Health St. Anthony Hospital and Oklahoma City University's Kramer School of Nursing. The partnership allows OCU students to work part-time with SSM Health while they complete their nursing degree, while also receiving a $3,500 annual scholarship from SSM Health and a $5,000 annual discount from OCU.
"As one of the nation's leading nursing education programs, we are invested in helping address the nursing shortage," OCU President Kenneth Evans said. "Training and supporting the next generation of nurses while at the same time strengthening the workforce at SSM Health is truly a win-win endeavor."
Tammy Powell, president, SSM Health St. Anthony Hospital and SSM Health Bone & Joint Hospital at St. Anthony said initiatives like Saints & Stars are vital in ensuring an effective health care landscape in the state and nation.
"SSM Health St. Anthony is dedicated to providing high-quality health care to Oklahomans across the state," Powell said. "That begins with training and employing a new generation of health care professionals. We see Saints & Stars as a key component in doing just that."
In addition to employment and financial benefits, the partnership will allow OCU nursing students the opportunity to take part in clinical rotations at SSM Health; to engage in paid leadership clinical hours; to participate in a summer nurse extern program; to complete service learning hours at SSM Health; and to be assigned a nurse mentor.
The first cohort of Saints & Stars began with junior nursing students in January. Twenty additional junior students will be selected to participate in the program each year for the next four years.
In addition, up to two SSM Health employees may enroll in OCU's Master of Science in Nursing Education program. OCU will reciprocate by emphasizing the hiring of the program's SSM Health graduates to serve as clinical adjuncts to supervise Stars & Saints students completing their rotations at SSM Health. These nurses will be essential in supporting the ongoing clinical education of students participating in the Saints & Stars program.
Elain Richardson, regional chief nursing officer at SSM Health St. Anthony, said health system officials are familiar with the caliber of nursing students OCU produces and look forward to increasing the ranks of OCU Stars in their workforce.
"The nursing shortage has grown more dire for several years," Richardson said. "Alongside health care systems across our state and nation, we have felt the impacts at SSM Health, and we are excited to be able to lean on our friends at the Kramer School of Nursing to help fill the gap."
This is not the first partnership between SSM Health St. Anthony Hospital and OCU. In fact, the two entities have a long tradition of partnerships to address health care needs in the community. In 1981, the St. Anthony Hospital School of Nursing, established as the first nursing school in Oklahoma in 1908, merged with OCU's academic program to offer a four-year bachelor's degree in nursing, the first venture of its kind in the state. In 1959, the hospital and university forged an agreement that would allow students to earn 30 hours of credit toward their degree with a two-year X-ray technician course taught at the hospital.
"We are proud to continue the tradition of collaboration between OCU and SSM Health St. Anthony Hospital," said Gina Crawford, dean of OCU's Kramer School of Nursing. "We are very excited to be able to offer additional support to our students and to continue to build on the high-quality education at Kramer School of Nursing. This partnership will assist in building a more robust nursing workforce in Oklahoma."
To learn more about the Saints & Stars Program, or about nursing programs at OCU, go to okcu.edu/nursing.