'Sweeney Todd' opens OCU music theater season
Posted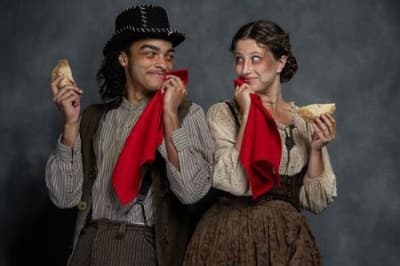 The Wanda L. Bass School of Music will open its 72nd season of opera and music theater with Stephen Sondheim's "Sweeney Todd: The Demon Barber of Fleet Street" Sept. 29 through Oct. 1.
Praised as "haunting, horrible and thrilling" by The Guardian of London, the musical thriller is "a nightmare of a show and in some ways a dream, pushing at the boundaries of what a musical might say and do and be."
Winner of 12 Tony Awards for its 1979 Broadway debut and three subsequent revivals, the show features music by Stephen Sondheim and a book by Hugh Wheeler.
OCU's production will be performed by a cast of 33, directed by David Herendeen and choreographed by Mary Ann Meyers, and 26-piece pit orchestra playing Jonathan Tunick's original orchestrations, under the baton of Matthew Mailman.
Scenic design is by Jason Foreman, with lighting by Preston Hunt and costumes by Allison Winsby.
New showtimes for the 2023-24 season are 7:30 p.m. Friday and Saturday, with a 2 p.m. Sunday matinee. A free director's talk will be held 45 minutes before curtain of each show.
Tickets are available at okcu.edu/tickets or by calling 405-208-5227.
2023-24 season info
OCU's Oklahoma Opera and Music Theater Company will follow "Sweeney Todd" with the Nov. 3-5 spotlight musical "The Light in the Piazza" by Adam Guettel, and a Nov. 17-19 twin bill of one-act operas — Jake Landau's 2021 "Pietà" paired with Puccini's "Suor Angelica," performed in Italian with English supertitles.
The spring 2024 season begins Feb. 16-18 with Otto Nicolai's comic 1849 "The Merry Wives of Windsor," followed Feb. 23-25 by a Spotlight production of Gilbert & Sullivan's "Iolanthe." The season closes April 19-21 with Jonathan Larson's acclaimed rock musical "RENT," winner of the Pulitzer Prize for Drama and four Tony Awards, including Best Musical.
Opening-night dinners will be held outside the theater in the Bass Music Center Atrium on the Friday evening of each mainstage production. The dinners feature musical accompaniment and a menu themed to each show. Dinner reservations — set for Sept. 29, Nov. 17, Feb. 23, and April 19 — may be made online at okcu.edu/tickets.
###

"Sweeney Todd" cast
Featuring Jackson Barnes and Evan Moore in the title role; Gabrielle Gore and Mae Rodgers as Mrs. Lovett; Christian Atherton and Noah Youmans as Anthony Hope; Margaret Heiskell and Holly Parker as Johanna Barker; Scott Bratton as Judge Turpin; Zach Decker and Adam Morrison as Tobias Ragg; Michael Rick as Beadle Bamford; Ella Benward and Sophia Rodrigues Patterson as the Beggar Woman; and Karol Colley as Adolfo Pirelli/ Danny O'Higgins. The Ensemble: sopranos Eris Gothreaux, Katy Manderfeld, Raeslyn Miller, Sahara Siefried and Madi Spear; mezzos Hazel Brady, Chloe Phelps, Kathryn-Ximena Rojas, Kat Sweeney, and Sarabeth Wallace; tenors MK Lee, Brady McComas, and James Pendergast; baritones Aleksander Lipinski, Jeron Robinson, and Ryan Walshaw; and Basses Scott Bratton and Giancarlo Holland.
Orchestra
Naomi Tomko (flute/piccolo); Megan Howell, Alyssa Jester, Josh Roberts, Wesley Sloan (reeds); Bruno Zuniga-Hernandez and Gabe Carter (trumpet); Jacob Fleury (horn); Brandon Lowe and Emma Neasby (trombone); Joshua Tobias (bass trombone); Eric Odland and Nathan Rainey (percussion); Andrew White, Weston Tweddell, Winter Durham, Sydney McCleary, Alaina Brady-Hummingbird and Sarina Paoli (violin); Scotty Scott and Patrick Acosta (viola); Christophe Delgado and Kiegan Ryan (cello); Jackson Burnette (string bass); Emily Duncan (harp); and Jay Teamer (keyboard). Orchestra manager is Joshua Tobias; assistant conductors are Tobias and Katie Crim.
Design team
Jason Foreman – Scenic Designer
Preston Hunt – Lighting Designer
AB Wildes – Assistant Lighting Designer
Peyton Rucker – Assistant Lighting Designer
Allison Winsby – Costume Designer
Joy Stachmus – Assistant Costume Designer
Jacob Henry – Sound Designer
Zadrianna Elizondo – Assistant Sound Designer
Tess Rosen – Props Supervisor
Brain Coleman – Technical Director
Kennedy Nichols – Production Electrician
Grace Neal – Stage Manager
Paige Miller – Assistant Stage Manager
Sydney Stephenson – Assistant Stage Manager