Our goal is to match donors' philanthropic interests with opportunities to enrich the academic programs and fulfill our mission of scholarship and service.
Like all private universities in the country, it is critical to the future of Oklahoma City University that we secure the private resources necessary to provide our students with the education and life skills they need to pursue and fulfill their dreams.
Among our most critical needs is to increase the university's endowment. To reach our goal, we will need the support of our alumni, church, faculty, staff, trustees and friends to ensure that our second century will be as successful as the first.
To learn more how you can help, visit our Annual Fund for immediate gifts, or the Estate Planning section for information about gifts that can save on taxes and provide income for you or your family. This section also offers an online gift calculator that will help you determine how to make the most advantageous gift and numerous articles about various gift types and giving strategies. Visit the Endowment section to learn how an endowment gift can benefit the university. If you wish to make an online gift, visit our secure Online Giving page. Or, if you prefer to speak to one of our development officers, please call 405-208-7000.
Thank you for your interest in Oklahoma City University.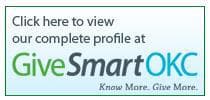 For mailed contributions, please use this address:
Oklahoma City University Advancement
PO Box 2780
Oklahoma City, OK 73101