Hulsey gallery exhibits print exchange
Posted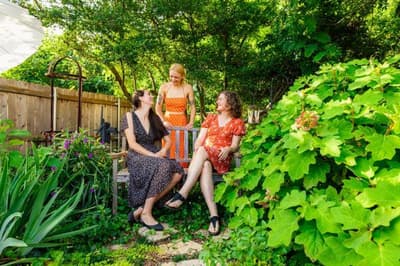 Oklahoma City University's Norick Art Center is showcasing the concept of friendship through art with its latest exhibit, "Connect: Collect 5." The collection of printmaking works is on display through Sept. 1, with an artists' reception set for 5 to 7 p.m. Aug. 24.
Originating from three Oklahoma City-based artists — Emma Difani, Alexa Goetzinger and Virginia Sitzes — "Connect: Collect" is an annual print exchange highlighting artists working in traditional, analogue techniques.
Difani said the theme for their fifth installment — friendship — was inspired by what transpired during the COVID pandemic, when in-person indoor gatherings were discouraged.
"When Alexa bought a house, we did a lot of gardening in her yard. It allowed us to still gather outside and enjoy each other's company," she said.
The garden hangouts continue to this day, and the trio extended the idea to their current exhibit.
The theme "grew out of the idea of how much time, attention and care we give our friendships in order to yield something special," Difani added.
To enhance the exhibit, they "recreated" their garden with a site-specific installation called "Come Sit With Us." The installation features dozens of upcycled, patchwork fabric panels layered with relief and screen prints. Visitors follow a drape-walled circular path that leads to a garden bench, much like the one they utilized in their backyard gatherings.
In a print exchange, each participating artist creates an edition (series of identical prints) to be traded with the other artists. For "Connect: Collect 5," 30 artists were selected from all over the country.
The Norick Art Center is located at N.W. 26th Street and Blackwelder Avenue. Gallery hours are 9 a.m. to 5 p.m. Monday through Friday.